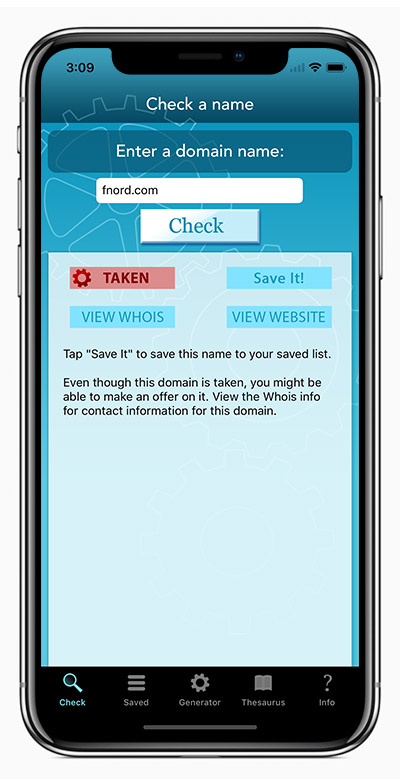 An updated app is coming soon for iOS and Android!
Want to hear when it launches? Join the mailing list!
The Dot-o-mator App will help you come up with potential domain names for your website or business. With this app you can:
Check

the availability of any .com, .net or .org domain name. When you find a name you like, you can save it to your Saved Names list, view the website or whois info for names that are taken, or tap a link to register available domains right away!

Generate

names by combining words: a word you enter, plus a list of word endings. The app checks the availability of all the generated names at the same time, so you can easily see which names are available! You can also customize the generator's endings lists by adding or removing words, and create your own endings lists for even more name combinations.

Whois

shows you who owns a domain that's already registered, and when the domain expires.

Thesaurus:

This tool gives you even more possibilities for names. Enter a word in the thesaurus field and tap "Find Similar" to get a list of related words, then tap on any of the resulting words to either define the word, check that word as a domain name, or use it as the root word in the Name Generator. There are thousands of possible combinations!
Screenshots: (click to view)